Bridgewater Commercial in the News
Wine bar, boutique hotel add new experiences to emerging Edge District of St. Pete
JANAN TALAFER | 83DegreesMedia.com | TUESDAY, SEPTEMBER 10, 2019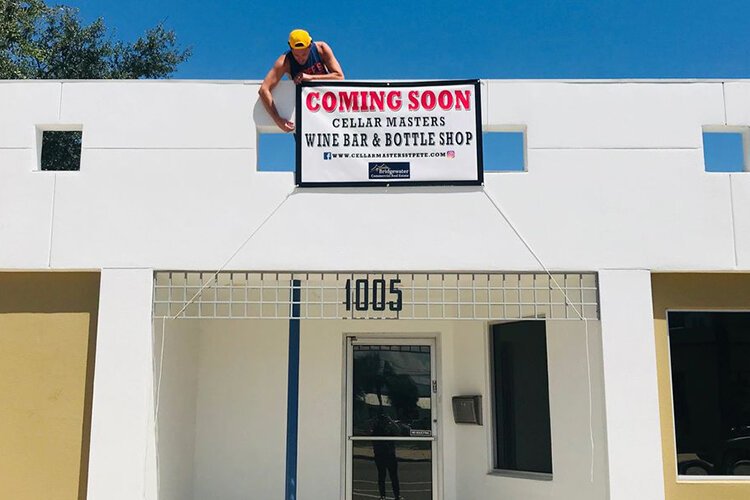 A new Marriott Tribute Collection boutique hotel is coming, more residential is going up, and now St. Petersburg's rapidly growing Edge District will be getting its first wine bar and bottle shop.
CellarMasters Wine Bar & Bottle Shop will have both indoor and outdoor seating and is expected to be open around Thanksgiving of his year.
According to Owner Ryan Rugg and Business Partner Kory Lynn, CellarMasters will offer both a retail venture focused on selling wine from small-batch, independent vineyards — no big brands, and a social venue offering wine and beer by the glass, along with appetizers and small plate options.
Located at 1005 1st Ave. N., the 2,190-square-foot wine bar and bottle shop is taking over a former '70s era office building with extensive renovations currently underway inside, says Rugg.
"We are really excited about the Edge District and what's taking place there," says Rugg. "It's totally walkable, very funky and fun. And it's artistic with lots of murals on buildings. It's the perfect part of town for us. We are super stoked. There is no other business similar to what we will be bringing here."
Rugg recently moved to St. Pete from Oakland, CA., and says there are many similarities between the two cities. "Both are young and hip and edgy," says Rugg.
Rugg and Lynn are veterans in the wine industry. Rugg's background includes working as CellarMaster/Winemaking Supervisor producing wine in the San Francisco Bay area, as well as working as a wine wholesaler and retailer. Lynn is a sommelier and has years of experience opening wine bars in markets around the country and in selecting wine for restaurants and retailers.
"We're both well-educated in wine and hope to bring that education to the customer," says Rugg.
Bridgewater Commercial Real Estate realtors Dan Huntington and Dee Maret helped secure the property, which is one block west of the new Icon Central Luxury Apartments, a mixed-use development with 15-story luxury apartments with amenities such as an outdoor movie lawn, indoor Zen garden, and art exhibits. The complex incorporates the historic 1926 Union Trust Bank building at the corner of Central Avenue and 8th Street North.
Located between 1st Avenue North and 1st Avenue South, and 9th Street North and 16th Street North, the Edge District has been experiencing skyrocketing economic development as the success of St. Pete's downtown spreads west.
"It's not the 'Edge' it once was, the district is becoming more and more a central part of town," says Maret.
According to the Edge District's Executive Director Barbara Voglewede, there's been a $75 million investment in the district in the last year or so. In the spring the much-anticipated three-story St. Petersburg Police Station opened, giving the city a new police headquarters with several cool features — a  solar photovoltaic roof with 1,450 solar panels on the parking garage and three public art sculptures by two local artists — Mark Aeling of MGA Sculpture Studio, and Catherine Woods of C Glass Studios.
Also, earlier this year, the Edge District commissioned 10 public art sculptures by artist James Brenner to mark the perimeter boundary line of the district. Brenner's sculptures are made of sculpted jade green glass and stainless steel with LED lighting.
"The Edge District is still affordable," says Rugg. "If you look around at the businesses, restaurants, and bars located here, most are locally owned and they are all true to the culture of St. Pete."
By Susan Taylor Martin | Tampa Bay Times
ST. PETERSBURG — In yet another sign that the United States is becoming a nation of renters, a Texas company has bought 77 single-family rental homes in St. Petersburg.
Amherst Residential LLC paid a total of $7.06 million this week for the houses, mostly between Fifth Avenue S and 30th Avenue S. The area is seeing more interest from investors as downtown St. Petersburg experiences a boom in high-end apartments and other parts of Pinellas County are getting unaffordable for lower-income renters.
Dan Huntington, the agent who brokered the sale, said he had heard that Amherst was looking for houses in Pinellas as it expands its portfolio. Since 2012, the company has acquired more than 25,000 houses nationwide and is stepping up its investment in high-growth areas such as Tampa Bay.
"I know the owner (of the houses) was looking to sell so I contacted Amherst and started negotiating," Huntington said Friday. "It probably took us seven or eight months."
The owner had gradually acquired the houses, some in foreclosure sales.
"He's older, and it's just time to retire," Huntingon said.
The houses have between two and four bedrooms, and currently rent for between about $900 and $1,400 a month. Many of the tenants receive some type of government help with the rent.
In 1965, roughly 63 percent of Americans owned a home, according to the U.S. Census Bureau. Home ownership peaked in 2004 at 69 percent, then fell back to 63 percent in 2015 as many people lost their homes to foreclosure. As of April, the ownership rate had risen to just over 64 percent.
During the foreclosure crisis, huge real estate investment trusts like Invitation Homes and Starwood Waypoint snapped up an estimated 8,000 homes in the Tampa Bay area to use as rentals. Invitation and Starwood merged in 2017, and the combined company continues to rent out hundreds of houses, especially in unincorporated areas of Hillsborough County.
Huntington, an agent with St. Petersburg-based Bridgewater Commercial Real Estate, said he's noticed that younger people are less interested in home ownership than baby boomers like himself were.
"Our dream was always to own a house and a lot of people nowadays that's not part of their dream," he said. "They lease their cars and they rent their houses."
https://www.tampabay.com/business/big-texas-company-buys-77-st-pete-houses-in-a-mega-million-dollar-deal-20190719/